Here's a short review of a few films I've seen lately: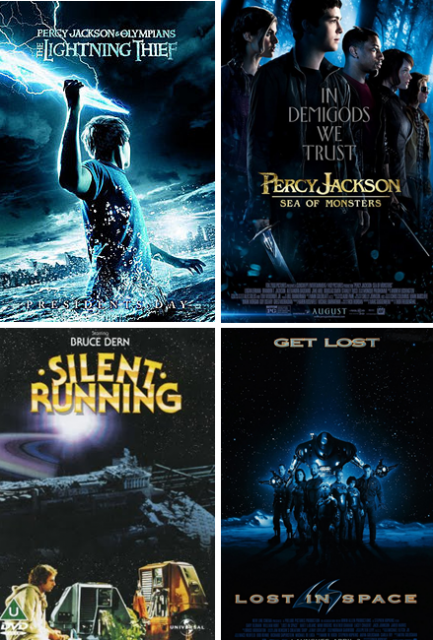 A few weeks ago I went to see Percy Jackson: the Sea of Monsters with some people from work, but to do that, I needed to see Percy Jackson: the Lightning Thief (which I had only seen bits of), so one of my friends lent me her copy and the result was mindblowing:
But it wasn't just that. I'm a sucker for mithology, action films and fantasy. And man, this has all of it.
If you don't know the premise of the film, it's basically about a boy who is the son of Poseidon, but he only finds out when people he knows turn out to be weird creatures (like centaurs and stuff). Apparently Zeus' goons are after him because they think he stole the king of the Olympus' lightning bolt. But he didn't! And that's where it gets awesome...
I was watching it home alone while my house mate was at a dinner party and I kept texting him "I'M LEARNING AND HAVING FUN AT THE SAME TIME!", so this is definitely something kids should watch. I mean, if I watched this as a kid, I would totally remember Medusa as Uma Thurman. EVERYONE would.
I really want to read the books now. Argh, this was so good.

After watching the first Percy Jackson I was obviously thrilled to watch the second one (turns out I had to hurry from work to get to the cinema on time, which added more adrenaline to the whole thing). I was expecting some Sean Bean and Uma Thurman goodness again, but I was slightly disappointed that none of them were showing up.
That is until I had the best surprise of them all...
Oh yes. I did make a fool out of myself at the cinema. Nathan Fillion was Hermes. SIGH.
Anyway, on this adventure, Percy has to find a way to revive a tree-girl-daughter-of-Zeus who protects the demigod camp, but he has to deal with the same baddie from the first film. (Yes, I do realise this is the worst description for the film, but I just woke up, so bare with me, yeah?)
All in all the film was good, I definitely liked the first one better, but this was also massively entertaing and the surprise Fillion more than made up for it.

First of all, you should know I'm a sucker for 60's and 70's films. I am also a well know sci-fi/dystopian/post-apocalyptic fan. And that's why I even surprise myself to say I didn't like this film very much.
One of the things I hate the most about the film, is the weak script and plot: planet Earth has no plantlife. So they're on a spaceship with the leftover flora, to study it and try to re-install it back home. But the project is cancelled and the domes with the plants are going to be destroyed. But here's the thing:
- How do people BREATHE?! And apparently they don't eat like us either, so EXPLAIN IT TO ME I NEED TO KNOWWWW
- There is only one guy out of all the crew interested in the plants. The others just do racing with little cars. Seriously? You're on a ship that's meant to save the plants and you RUN OVER THEM with your little electric car?!
- Why would you cancel this project?! And why would you NEED to destroy the plants, just let them be!
Ahhh, that's off my chest.
I did like
Bruce Dern
's acting, pretty much the only good thing about this film. And the little robots, they were so cute. But that's it. I seriously don't understand the hype about this film, or even how it's considered to be a cult film and one of the best sci-fi films ever. Not for me.

My rating went down with each film, but that's about to change. You see,I don't like artsy films. I like beautiful, meaningful, but not artsy. Which also means that I love silly films. And by silly I mean FULL OF CHEESE. Oh yes, I watched all the original Mission Impossible and Star Trek episodes, and all that because I love the sci-fi cheese. And Lost in Space is all the cheese its tacky cover promises.
So this film was based on a
60's TV show
(promising) about a family that's travelling away from a dying Earth into another star system (keep going), but the whole thing is sabotaged and they end up travelling through time (SOLD!).
If you're not a fan of the sweetly tacky sci-fi, don't bother, this isn't for you. But it's right up my alley:
-time travelling;
-cute alien creatures;
-scary alien creatures;
Awww, what else can you ask for?
This film was released when I was ten, and it's a shame I've only seen it now, I bet it would have become one of those childhood classics, like
Who Framed Roger Rabbit
, Star Wars or
Super Mario Bros
.
The only thing I didn't like was that it was so long. I have a very short attention span and a 2 hour film is too much for me (unless it's the Hobbit, then it can be as long as it wants). It didn't have filler or anything, but still it makes me look at my watch and that's not what I want to be doing.
This rating will be based mostly on my love for cheese, sci-fi and family friendly films and not on the plot or actual acting. Because they are a bit dodgy (except for Gary Oldman!!!) (and David Robert Jones!!!!!!).